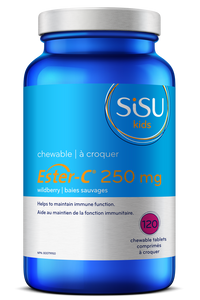 Highlights of Ester C Chewable for Kids
Naturally sweetened
Choose from three delicious natural flavours: orange, citrus punch, or wildberry
Gentler on tooth enamel
Ester-C® Chewables are a favourful option for children who don't like swallowing pills. This chewable vitamin C helps strengthen the immune system, alleviate allergy symptoms, encourage the growth and repair of body tissues and maintain the integrity of bones, gums and teeth. Available in naturally sweetened orange, citrus punch or wildberry formulas that are gentle on tooth enamel.
Medical Ingredients
Vitamin C
from Ester-C® brand calcium ascorbate and sodium ascorbate   250 mg

Non-medicinal ingredients
Stevia rebaudiana leaf powder, dextrose, fructose, citric acid, silicon dioxide, guar gum, stearic acid (vegetable), magnesium stearate (vegetable); Wildberry: natural flavours (raspberry, black raspberry); Citrus Punch: natural citrus punch flavour; Orange: natural flavours (orange, citrus punch), natural colours (curcumin, beetroot red).

Children's dosage (4 and up):
Chew 1-2 tablets daily or as directed by a health care practitioner.

Contains no   Dairy, wheat, gluten, artificial flavours, artificial sweeteners or colours
250mg 120 Chewable Tablets Wildberry Flavour