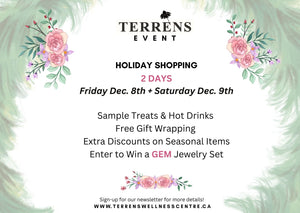 Ignite your life with Natural Factors NEW REGENERLIFE Products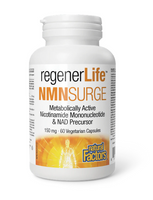 Give Your Life a Surge!
Do we know why we age and why some people age faster?
Aging is caused by so many processes, but DNA damage and mitochondrial dysfunction are the leading causes. Pivotal to healthy biological aging is a natural compound called NAD+.
NAD+ is a molecule that is the linchpin for proper mitochondrial function. By middle age though, our NAD+ levels have plummeted to half those of our youth. This results in fatigue, cognitive decline, and muscle loss.

What can we do to prevent that?
One of the most effective ways to prevent this decline is to supplement with nicotinamide mononucleotide, also known as NMN.
NMN is a cutting- edge, anti-aging nutrient that is an alternative, activated form of vitamin B3. As a precursor, NMN is rapidly absorbed and converted to NAD+.
Shop NEW RegenerLife
Put YOur Health First | Shop collections
SHOP REFILLABLE LEMON-AIDE CLEANERS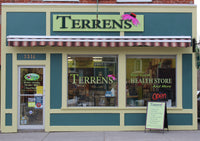 About Terrens Wellness Centre
Terrens Health Store - Celebrating 23 years in business in Downtown Orono. Terrens is a health supplement store supplying Canadian Brand vitamins, herbs, homeopathics, proteins and essential oils. New to the store in September 2020....the REFILL Station. We have Organic shampoos, skincare and eco-friendly products as well as teas, coffee, snacks and food basics. There is also a selection of gemstone jewellery, crystals, metaphysical decks and cards, and consignment gifts.
WAYS TO SHOP
Shop in-Store
We are open and we're a mask friendly environment
Pick Up Curbside
Order online select Pick Up as the Delivery method. This is Free and your order will be ready in 2 hours or less.
Local Delivery
Select Ship It under Delivery method at Checkout, continue to shipping, select Local Delivery! Within a 25 km radius of our store - $10 or free with any $85+ purchase
Have it Shipped to You
Shop online and select Standard or Expedited at Checkout and Ship it to your address.