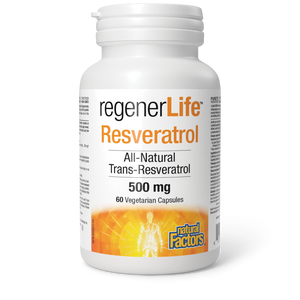 Natural Factors RegenerLife Resveratrol offers a highly concentrated form of all-natural trans-resveratrol, a potent antioxidant to protect cells and tissues from oxidative damage that causes premature aging. Resveratrol helps protect blood vessels, brain cells, joint tissue, and skin, making it a superstar compound for whole-body health and longevity.
RegenerLife Resveratrol is sourced from grapes grown in the Okanagan Valley of British Columbia and Japanese knotweed.
Concentrated antioxidant protection for healthy cellular aging
Uses and benefits
Supports healthy aging
Protects cells and tissues from oxidative damage
Supports cellular energy metabolism and mitochondria to prolong the longevity of healthy cells
Reduces the oxidation of harmful LDL cholesterol and protects the lining of blood vessels
Ingredients
Each vegetarian capsule contains:
Resveratrol [grape (Vitis vinifera) (fruit) and
Japanese knotweed (Polygonum cuspidatum) (root)] ...............500 mg
(providing 250 mg natural trans-resveratrol)

Dosage
Recommended adult dose: 1 vegetarian capsule daily or as directed
by a health care practitioner.

Cautions
Consult a health care practitioner prior to use if you are pregnant or
breastfeeding or if you are taking prescription medications as
resveratrol may alter the effectiveness of these medications. Keep out
of the reach of children.
60 vegetarian capsules, 500mg all-natural Trans-Resveratol 
Antioxidant