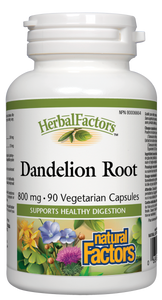 Dandelion Root is a great product for maintaining digestive health. It stimulates the release of bile from the gallbladder and improves liver function. It helps the liver detoxify and helps purify the blood. Dandelion root also promotes regularity of bowel movements, improves appetite, skin conditions, and restores gastric balance.

Supports liver and gallbladder health
Helps remove excess toxins and hormones from the liver
Increases bile production
Improves blood quality
Aids in rheumatic conditions
Dandelion root (Taraxacum officinale) benefits liver function and stimulates the release of bile from the gallbladder. It has the ability to clear obstructions and stimulate the liver to detoxify poisons. Dandelion contains all the nutritive salts that are required for the body to purify the blood. It promotes a healthy circulation, strengthens weak arteries, cleanses skin blemishes and restores the gastric balance in patients who have suffered from severe vomiting. It increases bile secretions and stimulates digestion. Its anti-inflammatory activity relates to its use for rheumatic conditions.

Dandelion root is a natural source of protein. It is rich in vitamin A and is an excellent source of vitamin B, C and E. Dandelion also contains minerals such as potassium, calcium and sodium, as well as phosphorus, iron, some nickel, cobalt, tin, copper and zinc.
Medicinal ingredients

Each vegetarian capsule contains:
Dandelion root powder (Taraxacum officinale) (root) 300 mg
Dandelion root 4:1 extract (Taraxacum officinale) (root) 125 mg
Equivalent to 500 mg crude herb
Non-medicinal Ingredients
Vegetarian capsule [carbohydrate gum (cellulose), purified water, silica], vegetable grade magnesium stearate (lubricant), silica.

Recommended use
Dandelion root has been traditionally used in herbal medicine to help increase bile flow and treat digestive disturbances. Used in herbal medicine as a diuretic, a laxative, an appetite stimulant, and also as an alterative to help relieve dermatological conditions.

Recommended dose
Recommended adult dose: 3 capsules daily or as directed by a health care practitioner. Diuretic: For occasional use only. Indigestion or loss of appetite: If symptoms persist beyond 2 weeks, consult a health care practitioner.

Cautions
Consult a health care practitioner if symptoms persist or worsen. Consult a health care practitioner prior to use if you have liver or gall bladder disease, and/or intestinal obstruction. Keep out of the reach of children.

Allergen Statement
Contains no artificial colours, preservatives, or sweeteners; no dairy, starch, sugar, wheat, gluten, yeast, soy, egg, fish, shellfish, animal products, salt, tree nuts, or GMOs. Suitable for vegetarians/vegans.
800mg 90 Veggie Capsules