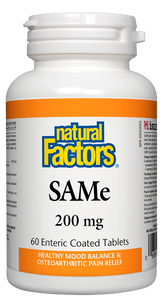 SAMe (pronounced "sammy") is short for S-adenosyl-L-methionine or S-adenosyl-methionine, a natural molecule formed in the body by methionine and adenosyl-triphosphate (ATP). Supplemental SAMe helps to raise serotonin, dopamine, and phosphatidylserine levels.
Helps promote bile flow and inactivate excess estrogens

Helps raise serotonin, dopamine, and phosphatidylserine levels
Without the side effects of prescription antidepressants
Support for arthritic disorders
Clinical research shows that SAMe elevates mood and has a positive effect on behaviour. It also maintains cartilage health and contributes to the production of joint-supporting compounds such as glucosamine and chondroitin.

SAMe works actively with folic acid and vitamin B12, and together can promote healthy brain functioning. Natural Factors SAMe is specially coated for ease of swallowing and maximum bioavailability, which also enhances SAMe's stability.

Individuals who are using prescription antidepressants or who suffer from bipolar disorder should use this product only under the supervision of a health care practitioner.
Medicinal Ingredients
Each tablet contains:
S-adenosyl-L-methionine (SAMe)200 mg(from 400 mg of S-adenosyl-L-methionine disulfate tosylate)

Non-medicinal: Microcrystalline cellulose, enteric coating (arginine, glycerin, vegetable grade magnesium stearate (lubricant), silica, sodium alginate), stearic acid, vegetable grade magnesium stearate (lubricant), magnesium hydroxide, silica, calcium oxide.
Recommended use: Helps support healthy mood balance and relieve osteoarthritic pain.
Recommended dose

SAMe should always be taken on an empty stomach.
For mood balance: 1–4 tablets 2 times daily or as directed by a health care practitioner.
For osteoarthritic pain: 1–3 tablets 2 times daily or as directed by a health care practitioner.
Do not exceed a total of 8 tablets daily.
SAMe must be taken for a minimum of 2 weeks, at which time effects should be observed.
Cautions: If you are taking anti-depressant medications, consult a health care practitioner prior to taking SAMe in place of or in addition to those medications. Not recommended for use in children. Do not use if you are pregnant or breastfeeding. Do not take at night as SAMe may cause anxiety, restlessness, and insomnia. People with bipolar disorder (manic-depressive illness) should not use SAMe unless under medical supervision. Possible side effects are: mild gastrointestinal upsets (such as stomach pain, nausea, diarrhea, and flatulence), anxiety, hyperactive muscle movement, insomnia, and hypomania. When these side effects occur, they often diminish with time or resolve with lower doses or cessation of use. There are no documented cases of allergies to SAMe. Keep out of the reach of children.
Allergen Statement: Contains no artificial colours, preservatives, or sweeteners; no dairy, starch, sugar, wheat, gluten, soy, corn, egg, fish, shellfish, salt, tree nuts, or GMOs. Suitable for vegetarians.
200mg Enteric Coated Tablets
200mg 60 Enteric Coated Tablets