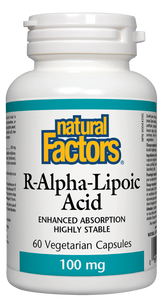 Enhanced absorption; highly stable
R-alpha-lipoic acid is a naturally occurring antioxidant which uniquely neutralizes damaging free radicals in all parts of the cell and boosts antioxidant defences by regenerating other antioxidants. The powerful antioxidant and regulating functions of alpha-lipoic acid make it an ideal supplement to improve health and protect against chronic disease and aging.
Supplies the bioactive "R" form of alpha-lipoic acid
Is the ideal, universal antioxidant, with unique beneficial activity
Supports nerve health, and is approved in Germany as a treatment for diabetic neuropathy
Lipoic acid (LA), also referred to as alpha-lipoic acid (ALA), is a naturally occurring and necessary biological factor. Although initially classified as a vitamin, LA is not a true vitamin because it can be synthesized in the body. It is a vitamin-like substance with functions similar to the B vitamins. There are two isomers for LA, designated R (R-LA) and S (S-LA), which are mirror images of each other chemically. R-LA is the preferred form, as it is naturally synthesized in the body and more efficiently absorbed, requiring lower doses and yielding higher concentrations than S-LA. R-LA is the biologically active form of lipoic acid and participates as an essential cofactor in biological processes.

LA is one of the most potent and diverse naturally occurring antioxidants. It has several unique abilities: the ability to work as an antioxidant in both water- and lipid-soluble parts of the cell and cell membrane; the ability to regenerate other antioxidants; and the ability to remain active once it neutralizes free radicals. LA has clearly earned its title of being the universal, super antioxidant. LA has long been known to be useful in promoting health and managing chronic diseases, including nervous system disorders and diabetes. It is also becoming known for its ability to boost metabolism, aid in weight loss, and protect against the effects of aging.
Medicinal ingredients
Each vegetarian capsule contains:
R-alpha-lipoic acid 100 mg

Non-medicinal Ingredients
Microcrystalline cellulose, vegetarian capsule (carbohydrate gum [cellulose], purified water), silica, vegetable grade magnesium stearate (lubricant).
Antioxidant for the maintenance of good health. 
This natural, highly stable and enhanced 'R' form of alpha-lipoic acid has been clinically proven to stay in the body significantly longer than the regular 'S' form.
Recommended adult dose: 1 capsule 2 times daily or as directed by a health care practitioner.
Consult a health care practitioner prior to use if you are pregnant or breastfeeding, or if you have diabetes. Keep out of the reach of children.
Contains no artificial colours, preservatives, or sweeteners; no dairy, starch, sugar, wheat, gluten, yeast, soy, corn, egg, fish, shellfish, animal products, tree nuts, or GMOs. Suitable for vegetarians/vegans.
100mg 60 Veggie Capsules