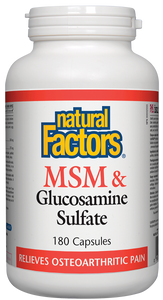 Natural Factors MSM &Glucosamine Sulfate helps maintain the structural integrity of joints while relieving joint pain from osteoarthritis. It combines two top joint support nutrients that help the body form connective tissue for healthy joints and muscles, protect against the degeneration of cartilage, and reduce painful inflammation.

Lessening of joint pain and swelling
Reduces inflammation
Minimizes muscle spasms
Softens scar tissue
Each capsule contains:
OptiMSM® (methylsulfonylmethane)   500 mg
Glucosamine sulfate (potassium chloride, shellfish exoskeleton)   375 mg

Non-medicinal Ingredients
Gelatin capsule (gelatin, purified water), vegetable grade magnesium stearate (lubricant), silica.

Recommended use
Helps relieve joint pain associated with osteoarthritis and protect against cartilage deterioration. A factor in maintaining healthy cartilage and joint health.

Recommended dose
Recommended adult dose: 2 capsules 2 times daily with meals, for a minimum of 1 month to see the beneficial effects, or as directed by a health care practitioner. Avoid taking at bedtime.

Cautions
Consult a health care practitioner if symptoms persist. Do not use if pregnant or breastfeeding. Keep out of reach of children.

Allergen Statement
Contains no artificial colours, preservatives, or sweeteners; no dairy, starch, sugar, wheat, gluten, yeast, soy, corn, egg, salt, tree nuts, or GMOs.
180 Capsules