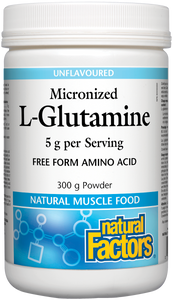 L-glutamine is an amino acid essential for recovery after strenuous exercise or critical illness. Following heavy or prolonged exercise it protects muscle tissue and supports muscle growth. Natural Factors Micronized L-Glutamine provides an easier form of glutamine for the body to absorb. It has no taste and mixes easily into water.

Accelerates recovery time, increases energy, and reduces the risk of infection following prolonged or intense exercise
Supports muscle recovery and growth, especially following strenuous exercise
Naturally boosts the immune system, helping to protect against infection and disease
Helps prevent infection during illness by strengthening the immune system, maintaining the integrity of the intestinal barrier, and preventing infectious agents from entering the body
Glutamine is a naturally occurring amino acid involved in a wide variety of metabolic processes, including the synthesis of proteins and nucleic acids, and energy production. Glutamine is the most abundant amino acid in skeletal muscle and plasma and is known to be an important nutrient for cell proliferation, survival, and repair; defending the body against inflammation and infection; and helping the body recover from illness or stress. More glutamine is used during periods of prolonged or heavy exercise, trauma, inflammation, immune system dysfunction, and some illnesses. These states may result in a glutamine deficiency, leading to impaired immune response and increased risk of infection.

While skeletal muscle is able to synthesize glutamine, many other cells and tissues that rely on glutamine to function properly are not. Immune cells and the kidney, liver, and gastrointestinal tract rely on glutamine from skeletal muscle. Skeletal muscle consequently requires a constant supply of glutamine.

Supplementation with glutamine helps ensure normal muscle function, aids recovery from physical trauma and illness, and naturally boosts the immune system, helping to protect against infection and disease. Glutamine supplementation is ideal for athletes who want to prevent problems associated with intensive training, and for anyone who would like to recover faster from over-training.
Medicinal ingredients

Each scoop (5 g) or 1 heaping tsp contains:
Micronized L-glutamine 5 g

Recommended use
L-glutamine is an amino acid that can be found throughout the body, primarily in the brain, gastrointestinal tract, muscles, and liver cells. During strenuous exercise, L-glutamine levels in the muscle and blood are greatly depleted. Supplementing with L-glutamine can help restore plasma L-glutamine levels depleted after periods of physical stress and can accelerate recovery time. Additional benefits include increased immunity and energy, as well as enhanced digestive and brain function. Micronization technology greatly minimizes the particle size, thus allowing your body to more easily break down and absorb the glutamine.

Recommended dose
Recommended adult dose: 1 scoop (5 g) or 1 heaping tsp daily or as directed by a health care practitioner. L-glutamine has no taste and mixes easily in water or your favourite beverage.

Cautions
Consult a health care practitioner prior to use if you are following a low protein diet, or if you are pregnant or breastfeeding. Keep out of the reach of children.

Allergen Statement
Contains no artificial colours, preservatives, or sweeteners; no dairy, starch, sugar, wheat, gluten, yeast, soy, corn, egg, fish, shellfish, animal products, salt, tree nuts, or GMOs. Suitable for vegetarians/vegans.
300g Powder Unflavoured