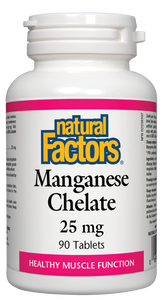 Manganese is essential for healthy bone structure and bone metabolism, as well it metabolizes fats, proteins, and carbohydrates. It is known to be a powerful antioxidant which neutralizes damaging free radicals. Natural Factors Manganese Chelate is easily absorbed and free from artificial colours, sweeteners, dairy, wheat, and yeast.

Promotes healthy skin
Builds strong bones and cartilage
Required for proper thyroid hormone function
Enhances energy
Potent antioxidant
Manganese is a trace mineral that is vital to life. Most of it is found in the bones, with the rest distributed throughout the body in tissues like the pancreas, kidneys, liver, adrenal glands, and pituitary glands.

Manganese plays an important role as an antioxidant. It is a constituent of some enzymes in our bodies and an activator of other enzymes, some of which play key roles in the metabolism of carbohydrates, amino acids, and cholesterol. It is also necessary for blood sugar regulation. Manganese is needed for healthy bone structure, bone metabolism, and helps create essential enzymes for building bones.

The chelated form of manganese allows the mineral to be more readily absorbed and metabolized by the body, making it an ideal choice for those with low stomach acid or other digestive issues.

Natural Factors Manganese Chelate 25 mg is a factor in the maintenance of good health. It helps metabolize fats, proteins, and carbohydrates, and plays a role in bone health.
Medicinal ingredients
Each tablet contains:
Manganese (HVP* Chelate) 25 mg
* HVP: Hydrolyzed Vegetable Protein
Non-medicinal Ingredients
Dibasic calcium phosphate dihydrate, microcrystalline cellulose, vegetable grade magnesium stearate (lubricant), croscarmellose sodium.

Recommended use
Helps prevent manganese deficiency. Helps in the development and maintenance of bones and to metabolize carbohydrates, proteins and fats. A factor in the maintenance of good health.

Recommended dose
Recommended adult dose: 1 tablet daily or as directed by a health care practitioner.

Cautions
For adult use only. Consult a health care practitioner prior to use if you have a liver disorder. keep out of the reach of children.

Allergen Statement
Do not use if seal is broken. Contains no artificial colours, preservatives, or sweeteners; no dairy, sugar, wheat, gluten, yeast, soy, egg, fish, shellfish, animal products, salt, tree nuts, or GMOs. Suitable for vegetarians/vegans.
25mg 90 Tablets