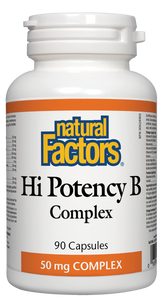 Natural Factors Hi Potency B Complex is a one-per-day formula that provides the full spectrum of all essential B vitamins. Each capsule contains a 50 mg potency that enhances energy levels by helping the body metabolize carbohydrates, proteins, and fats, as well as supporting red blood cell formation.

Provides essential B vitamins to maintain energy levels
Helps the body convert carbohydrates, fats, and proteins to energy
Aids tissue and red blood cell formation
Supports normal growth and development
A factor in the maintenance of good health
B vitamins play a vital role in nutrient metabolism and energy production. They are especially important during times of increased physical or mental stress when the body requires greater nutritional support. Natural Factors Hi Potency B Complex enhances energy levels naturally with a complete balance of all the essential B vitamins, plus choline and inositol to support their absorption and support liver health.

The B vitamins are a group of eight water-soluble vitamins that support enzyme activity in many of the body's essential functions. They are needed to effectively metabolize carbohydrates, proteins, and fats into energy. B vitamins also support normal growth and development, the formation of tissue and red blood cells, and healthy liver function.

B vitamins may become depleted by lifestyle and environmental factors such as alcohol consumption, poor or restrictive diets, certain medications, and stress, making daily intake important.

Hi Potency B Complex is an ideal choice for anyone with a busy lifestyle who wishes to maintain healthy energy levels throughout their day. It provides the body with the full spectrum of B vitamins in each daily, non-GMO capsule.
Medicinal ingredients
Each capsule contains:
Vitamin B1 (thiamine hydrochloride) 50 mg
Vitamin B2 (riboflavin) 50 mg
Niacinamide 50 mg
Vitamin B6 (pyridoxine hydrochloride) 50 mg
Pantothenic acid (calcium d-pantothenate) 50 mg
Para-aminobenzoic acid (PABA) 50 mg
Folic acid (folate) 1 mg
Biotin 60 mcg
Vitamin B12 (cyanocobalamin) 50 mcg
Lipotropic factors:
Choline (bitartrate) 50 mg
Inositol 50 mg

Non-medicinal Ingredients
Gelatin capsule (gelatin, purified water), microcrystalline cellulose, vegetable grade magnesium stearate (lubricant), silica.

Recommended use
Supplementing with B vitamins is a natural way to energize the body. A factor in the maintenance of good health. Converts carbohydrates, fats, and proteins to energy and helps in tissue formation and to form red blood cells.

Recommended dose
Recommended adult dose: 1 capsule daily or as directed by a health care practitioner.

Cautions
Consult a health care practitioner prior to use if you are pregnant or breastfeeding, or if you are taking sulfonamides. Keep out of the reach of children.

Allergen Statement
Contains no artificial colours, preservatives, or sweeteners; no dairy, starch, sugar, wheat, gluten, yeast, soy, egg, fish, shellfish, salt, tree nuts, or GMOs.

50mg Complex 90 Capsules