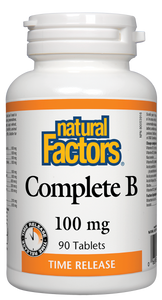 Essential for the maintenance of good health, the conversion of carbohydrates, fats, and proteins to energy, and in tissue and red blood cell formation, Natural Factors Complete B tablets provide a steady release of B vitamins to be absorbed by the body throughout the day.


Time released over an 8-hour period
Supports nervous system
Helps you get a more sound sleep
Promotes proper brain function
Essential for healthy hair, skin and nails
Helps metabolize proteins, carbohydrates and fats
Especially important when under stress
B vitamins are a group of water-soluble vitamins that help enzymes react chemically with other substances and are involved in energy production and red blood cell formation. The B vitamins help the body metabolize carbohydrates, proteins, and fats. They also help with normal growth and development, and in tissue formation.

They assist in the synthesis of brain chemicals which support mood and nerves, and they are essential for healthy skin, hair, eyes, mouth, and organs.

As the B vitamins are water-soluble vitamins and are also depleted easily by stress, poor diet, alcohol consumption and smoking, they need to be replenished daily. Natural Factors Complete B Time Release formula provides a balanced complex of key B vitamins and includes lipotrophic factors choline and inositol which assist in proper liver function and enhance the absorption of the B vitamins.

The time release tablets slowly allow a steady supply of vitamins to be released and absorbed by the body throughout the day. They are suitable for vegetarian and vegans and are free of any artificial colours, preservatives or sweeteners.

Medicinal ingredients
Each tablet contains:
Vitamin B1 (thiamine hydrochloride) 100 mg
Vitamin B2 (riboflavin) 100 mg
Niacinamide 100 mg
Vitamin B6 (pyridoxine hydrochloride) 100 mg
Pantothenic acid (calcium d-pantothenate) 100 mg
Para-aminobenzoic acid (PABA) 100 mg
Folic acid (folate) 400 mcg
Biotin 300 mcg
Vitamin B12 (cyanocobalamin) 100 mcg
Lipotropic factors:
Choline (bitartrate) 210 mg
Inositol 100 mg

Non-medicinal Ingredients
Dibasic calcium phosphate dihydrate, microcrystalline cellulose, carbohydrate gum [cellulose], coating (carbohydrate gum [cellulose], glycerin), vegetable grade magnesium stearate (lubricant).

Recommended use
Supplementing with B vitamins is a natural way to energize the body. A factor in the maintenance of good health. Helps to maintain the body's ability to metabolize nutrients. Helps in tissue formation and to form red blood cells.

Recommended dose
Recommended adult dose: 1 tablet daily or as directed by a health care practitioner.

Cautions
Consult a health care practitioner prior to use if you are pregnant or breastfeeding, or if you are taking sulfonamides. Keep out of the reach of children.

Allergen Statement
Contains no artificial colours, preservatives, or sweeteners; no dairy, starch, sugar, wheat, gluten, yeast, soy, egg, fish, shellfish, animal products, salt, tree nuts, or GMOs. Suitable for vegetarians/vegans.
100mg 90 Tablets Time Release