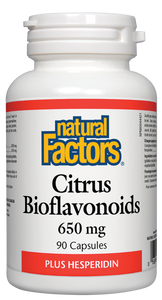 Bioflavonoids are plant compounds that demonstrate vitamin-like properties and exhibit superior antioxidant activity. Natural Factors Citrus Bioflavonoids are derived from the rind and pulp of citrus fruits. Additional hesperidin, a bioflavonoid also derived from citrus, adds superior antioxidant activity to help fight the effects of free radicals.

Strengthens capillaries and regulates their permeability
Reduces inflammation
Enhances immune system
Essential for proper absorption and use of vitamin C
Work as antioxidants by keeping vitamin C from being oxidized
Bioflavonoids are a group of plant pigments that are largely responsible for colours of many fruits and vegetables, and include a large number of nutrients with antioxidant activity. They are sometimes referred to as vitamin P because they have vitamin-like properties. Citrus bioflavonoids are derived from the rind and pulp of citrus fruits.

Citrus bioflavonoids work synergistically with vitamin C as they are needed for vitamin C to be used effectively by the body. They also increase the effectiveness of vitamin C by slowing down its breakdown. Bioflavonoids possess strong antioxidant activity, helping to fight poor health and the negative symptoms of aging.

Hesperidin is a citrus bioflavonoid found in oranges. It exhibits superior antioxidant activity and health benefits, and has a particular affinity for the circulatory system. Hesperidin has been shown to help improve the health of capillaries and veins.

Natural Factors Citrus Bioflavonoids is a complex of bioflavonoids with additional hesperidin for superior antioxidant support for the maintenance of good health. Each capsule is free from GMOs, soy and gluten, artificial colours, preservatives, or sweeteners.

Medicinal ingredients
Each capsule contains:
Citrus bioflavonoids (Citrus sinensis, Citrus reticulata, Citrus paradisi, Citrus limon, Citrus aurantiifolia) (fruit peel) (13% hesperidin) 500 mg
Hesperidin (Citrus sinensis) (fruit) 150 mg

Non-medicinal Ingredients
Gelatin capsule (gelatin, purified water), vegetable grade magnesium stearate (lubricant).

Recommended use
Provides antioxidants for the maintenance of good health.

Recommended dose
Recommended adult dose: 1 capsule daily or as directed by a health care practitioner.

Cautions
Consult a health care practitioner prior to use if you are taking any prescription medications, or if you are pregnant or breastfeeding. Keep out of the reach of children.

Allergen Statement
Contains no artificial colours, preservatives, or sweeteners; no dairy, starch, sugar, wheat, gluten, yeast, soy, corn, egg, fish, shellfish, salt, tree nuts, or GMOs.
650mg 90 Capsules