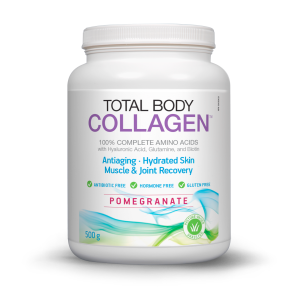 500g Powder Pomegranate Flavour
POWDER
contains:
Hydrolyzed collagen (bovine)10 g
Hyaluronic acid 50 mg
L-tryptophan 100 mg
L-glutamine 500 mg
Vitamin C (calcium ascorbate, dihydrate) 60 mg
Biotin500 mcg
Non-medicinal ingredients:
POMEGRANATE
Natural flavours (raspberry, pomegranate, tropical punch), citric acid, DL-malic acid, steviol glycosides.
Recommended adult dose: 1 serving daily or as directed by a health care practitioner. Mix product well in 1–2 cups of liquid (water, juice, etc.) immediately before consumption. For joint pain associated with osteoarthritis: Use for a minimum of 5 months to see beneficial effects.
Consult a health care practitioner prior to use if you are pregnant orbreastfeeding, have liver or kidney disease, or if you have been instructed to follow alow protein diet. Consult a health care practitioner if symptoms worsen. Some people may experience mild gastrointestinal disturbances such as diarrhea, abdominal pain, heartburn, nausea, and vomiting, in which case discontinue use. Ensure to drink enough fluid before, during, and after exercise. Keep out of the reach of children.