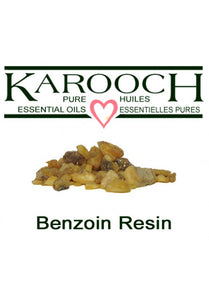 Name: Benzoin, Styrax benzoin
Bottle size: 10ml, glass
Country of Origin: Sumatra
Plant parts used: tree, gum from trunk
Extraction method: solvent
Safety precautions: Dilute before use, for external use only. Non-toxic, non-irritant, possible sensitization. Compound benzoin tincture is 'regarded as moderately toxic due to occasional contact dermatitis in sensitive individuals.
Blends With: Bergamot, Coriander, Cypress, Frankincense, Juniper, Lavender, Lemon, Myrrh, Orange, Petitgrain, Rose, Sandalwood.